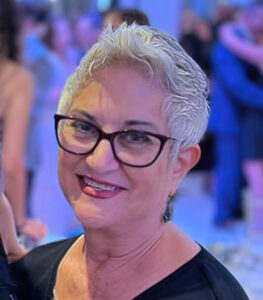 Stephanie Kontzamanys
Connector-in-chief
Over the course of her decades-long career, Stephanie has a cultivated reputation for resourcefulness and innovation through her numerous partnerships with a wide variety of local, regional & national clients. Highly respected for her expertise in the U.S. Hispanic Media market, she has extensive experience in Print, Radio, TV, Digital/Social & OOH.
While she has taken on a range of broadcast leadership roles, one thing she's brought to them all has been her ability to build, mentor and lead teams to find creative solutions for her clients. Stephanie's work ethos is defined by her devotion – to her teammates, to her clients and to the professional relationships she has fostered over the years. The connections she has nurtured, the knowledge she has honed and the hands-on approach she takes with all her projects, big or small, are critical elements in developing winning strategies that are the right fit for your media plan. 
Stephanie Kontzamanys has always thought of herself as a storyteller. After studying Broadcasting & Journalism, she started her career as a reporter for a small local paper. But after recognizing her zeal and persistence, not to mention her infectiously fiery personality, her boss saw that this storyteller was also a born sales leader. Stephanie went on to work in Radio sales and management for over 10 years, and after taking on print and radio, it was time for TV, a transition that saw her work her way up the ladder at Univision for over two decades.
In her journey through the media landscape, there's one thing Stephanie has learned to love most of all (and it just so happens to be one of the things she's best at): creating connections. That's why she decided to start Skala Connections. We're here to continue to take her and her team's years of experience into turn them into bridges we can help you build. It doesn't matter the industry or the audience – we're here for the big challenges because we've spent decades coming up with big solutions.